Why Work with Our Law Firm?
Why Hire The Fuller Law Firm, PC?
Serving Clients Throughout San Jose, Salinas & Oakland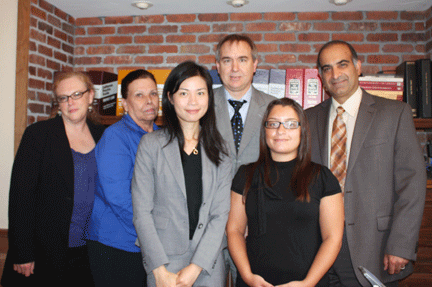 Filing for bankruptcy can be a daunting decision. Most likely you have put countless hours of thought into whether or not it is even the right option for you and your family. Why would you not put that same level of thought into hiring a bankruptcy attorney? It is absolutely essential that you have legal advocates working with you who are not only knowledgeable but trustworthy and compassionate. Knowing that you can rely on someone to guide you through an otherwise difficult situation can not only bring a sense of calm, but it can ultimately help save your financial future. Our San Jose bankruptcy lawyers treat each client with the respect they deserve, as we understand that finances can be turned upside down overnight.
In addition, you want a firm to assist you that has had their fair share of experience in the field. Having an inexperienced attorney could result in amateur mistakes that could cost your down the road. Shopping around for lawyers that are highly qualified and willing to work personally with you is not a bad idea. At The Fuller Law Firm, PC we have been serving the residents of San Jose and surrounding counties in Northern California with an outstanding level of commitment. We not only understand the complicated bankruptcy system, we have helped thousands of individuals find favorable debt relief solutions even outside of the realm of bankruptcy.
We believe in educating our clients throughout the process. Never will we use language that is too complicated for you to understand. Always breaking it down into layman's terms, we are here to help you not only find a remedy for your circumstances but to give you the tools you need for the future as well. Have confidence in our firm's ability to work out a reliable solution for you or your family and contact us at one of our office locations today. Whether you are facing a potential foreclosure, are filing Chapter 7 bankruptcy or need help putting an end to creditor harassment, call us today!
Bankruptcy law firms are everywhere and oftentimes they make empty promises. With so many choices, why should you select The Fuller Law Firm, PC and what sets us apart from other law firms? Here are some answers to questions you should ask that may help you understand why our service is among the best:
How many bankruptcy lawyers are within the firm?
The Fuller Law Firm, PC has four lawyers to address your needs.
How long does it take before we can sign off our petition?
At The Fuller Law Firm, PC, you drop off all documents by 6 p.m. in most cases we can sign you off the next morning.
For how many years has the law firm emphasized bankruptcy cases?
The Fuller Law Firm, PC has represented clients in bankruptcy cases for 20 years.
Does the law firm offer a broad range of bankruptcy services?
The Fuller Law Firm, PC represents clients in Chapter 7, Chapter 11, and Chapter 13 cases, litigates and defends clients in adversary proceedings and takes cases up on appeal to the 9th Circuit.
What are the firm's geographic limitations?
The Fuller Law Firm, PC represents clients in the Northern District of California (San Jose, San Francisco, Santa Rosa, Oakland and Salinas Divisions) and the Eastern District of California (Sacramento, Fresno and Modesto Divisions).
Does the Law Firm offer flexible hours?
The Fuller Law Firm, PC will meet new clients outside normal business hours (Saturday appointments and weekday evening appointments are available).
Who will I meet with for my consultation?
At The Fuller Law Firm, PC, you will always meet with an attorney.
How many cases has the firm handled?
The Fuller Law Firm, PC has filed over 4,000 cases.
Has the firm prevailed on appeal?
The Fuller Law Firm, PC has prevailed on appeal, most recently in In re Coleman.
Regain Control of Your Life. Contact Us Today.
We believe each client deserves outstanding service.

We provide free phone and virtual initial consultations.

We are caring, knowledgeable, and trustworthy.

We will work quickly and guide you every step of the way.